Build an effective business website
Building a full website design from scratch following the process of user experience and user interface.
Today, banks are changing their way of doing business; they are shifting from a transaction-based marketing approach to a relationship-based approach. Customer relationship management (CRM) has emerged as a new paradigm of marketing. 
We often find that businesses struggle with CRM adoption because systems are slow, difficult to use, and overly burdensome. Before you know it, teams create workarounds outside of the system and the problems become permanent.
As a product designer in charge of the CRM. My role is to make business managers' lives a bit easier when it comes to data entry and organizing information by resolving all issues related to CRM usability. The CRM application improvement will help decrease the time users spend struggling with the application and focus more on their clients and other tasks. In addition to that, it will help improve data organization and add new features adapted to their needs.
The first step was discovering the current version of the CRM in order to have a deep understanding of each part of that.
To turn this idea into a reality, we had to make some extra efforts and perform tasks that rarely occur in other CRM development projects
01. The client wanted to make this CRM system an admin panel for different websites. So we had to consider the structures of these resources during the development process.
2. One of the biggest challenges of the Banking Consult project is that each of the five user roles defined in the system has a different set of permissions. So our coding team must always keep a variety of user rights in mind when creating new features or making updates.
Like in any industry, choosing a CRM for financial institutions.
CRM is one of the most accurate and useful tools to analyze and strategies the business strategies for many organizations, using CRM in day-to-day business helps businesses in many ways as the analysis of the work done can be done very properly and efficiently.
Lack of transparency and increasing centralization are alarming trends in digital marketing. The most popular advertising platforms tend to charge high fees and censor unwanted content. Advertisers often have to deal with malicious traffic, while publishers have their revenue, reduced by users who block advertisements.
The whole project cost consumes a lot of time and energy. Unclear requirements make estimation and valuation difficult. The creative process requires a lot of dialogue. Understanding many channels might be a hassle. Clear task delegation, obvious responsibilities and comprehensive definition of done – these are every manager's challenges.
Customize site navigation
Navigation is More Important Than Search, Gerry McGovern reveals that 70% of the technical audience started the task by clicking on a link; 30% used to search. With this in mind, navigation becomes a crucial part of user experience and usability since it requires little effort.
Having a clean and well-structured website navigation is key in designing an effective user interface.

We proposed four different layouts for CRM Dashboards
The first thing to focus the design effort was a dashboard, the main page of the admin panel. That was one of the challenging pages as it had to consist of many statistics and graphics blocks. 
Our goal was to help banks make better decisions, streamline operations, manage data and information.
We start with :
Customer Relationship Management (CRM) dashboards to bring visibility into what our customers need to do to improve there interactions. CRM dashboards come in many shapes and sizes, but they all share two key attributes: they help improve sales outcomes and unlock our customers team's productivity.
1
Branch
Scorecard Dashboard
2
Retail and Commercial
Overview
4
Customer Account Overview
The branch scorecard dashboard (Exhibit 1) provides an easy, efficient way to measure key performance indicators (KPIs) and gain an accurate view of a branch's progress toward performance targets. Although a bank's overall health may be good, it's important to know how individual branches are progressing toward their goals.
One dashboard metric shows real-time data of the number of opened or closed accounts for a specified period. This data can help in assessing the success of marketing campaigns and identifying other factors that might be affecting customers.
The dashboard also enables users to apply various filters to:
Identify opportunities for referrals
View a graphic display of account totals
Determine timing for upselling or cross-selling additional products
Track income and expenses against budgets
Measure the bank's overall efficiency and productivity
Sometimes, banks judge their success in terms of a credit culture but might not take their deposits as seriously. A strong deposit culture is important in building sales leadership, reaching marketing goals, supporting sales governance, and measuring success compared with leading performance indicators.
The sales overview dashboard (Exhibit 2) provides the closed loop marketing insight necessary for measuring the effectiveness of marketing – from the release of a campaign to the leads generated, pipeline impact, and revenue created.
Customers are a bank's most important asset. When customer information is scattered throughout various departments and systems, it's difficult to get a complete picture of customer relationships and the products and services customers have been offered.
The customer service representative (CSR) dashboard (Exhibit 3) is designed to provide a 360-degree, real-time view of customer data. Because relevant information is easily accessible, the dashboard can serve as a CSR's command central. A segmented list of work items requiring attention helps with organizing and prioritizing, while the calendar enables CSRs to determine availability and quickly schedule new activities.
Banks need to move from siloed customer data to an integrated, single view of the customer. The customer account overview dashboard (Exhibit 4) provides a wide variety of information, including a:
Consolidated customer profile including contact history
Financial summary including total volume and type of accounts
Field for entering notes upon each contact with the customer and ideas for next steps
Each consolidated customer profile can illuminate new opportunities for strengthening customer relationships. It also can help CSRs improve efficiency, provide decision-makers with more comprehensive information for assessing risk, and enable marketers to more effectively develop and target products and services.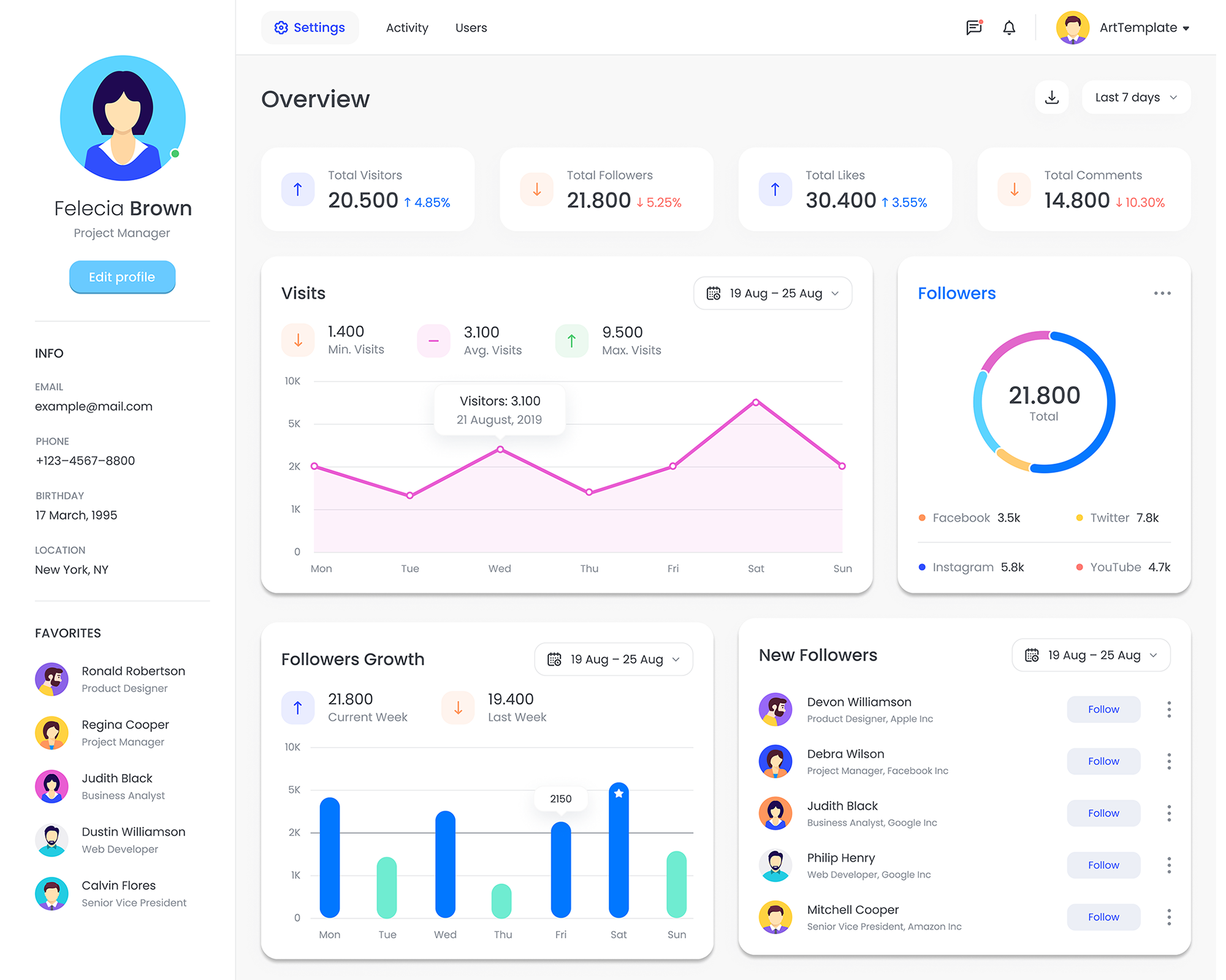 To bring a little fun into charts and numbers.
The designer chose a vibrant color palette which creates an appealing and clean look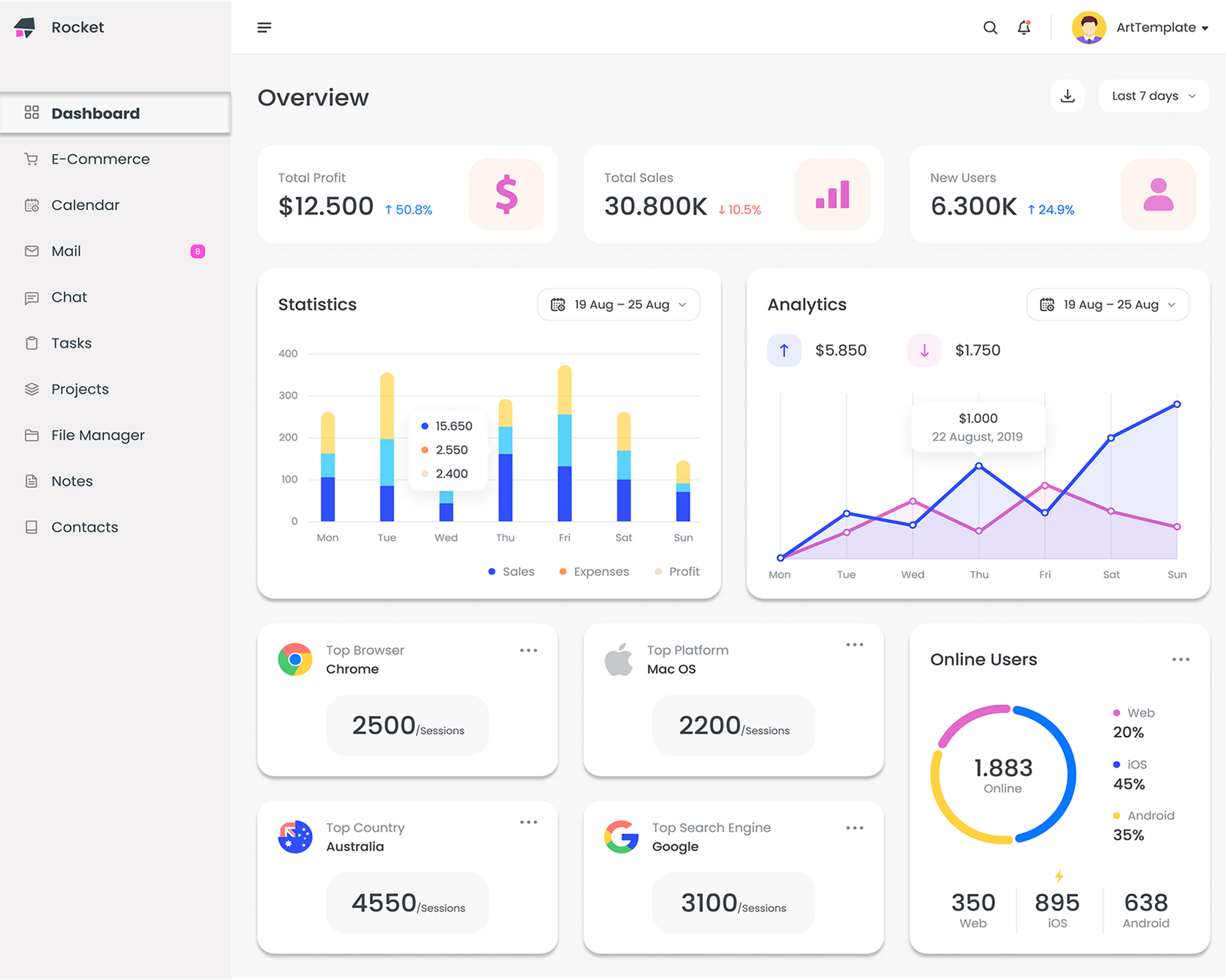 For primary colors, deep blue and vibrant blue were chosen;
for additional accents, the turquoise color was picked.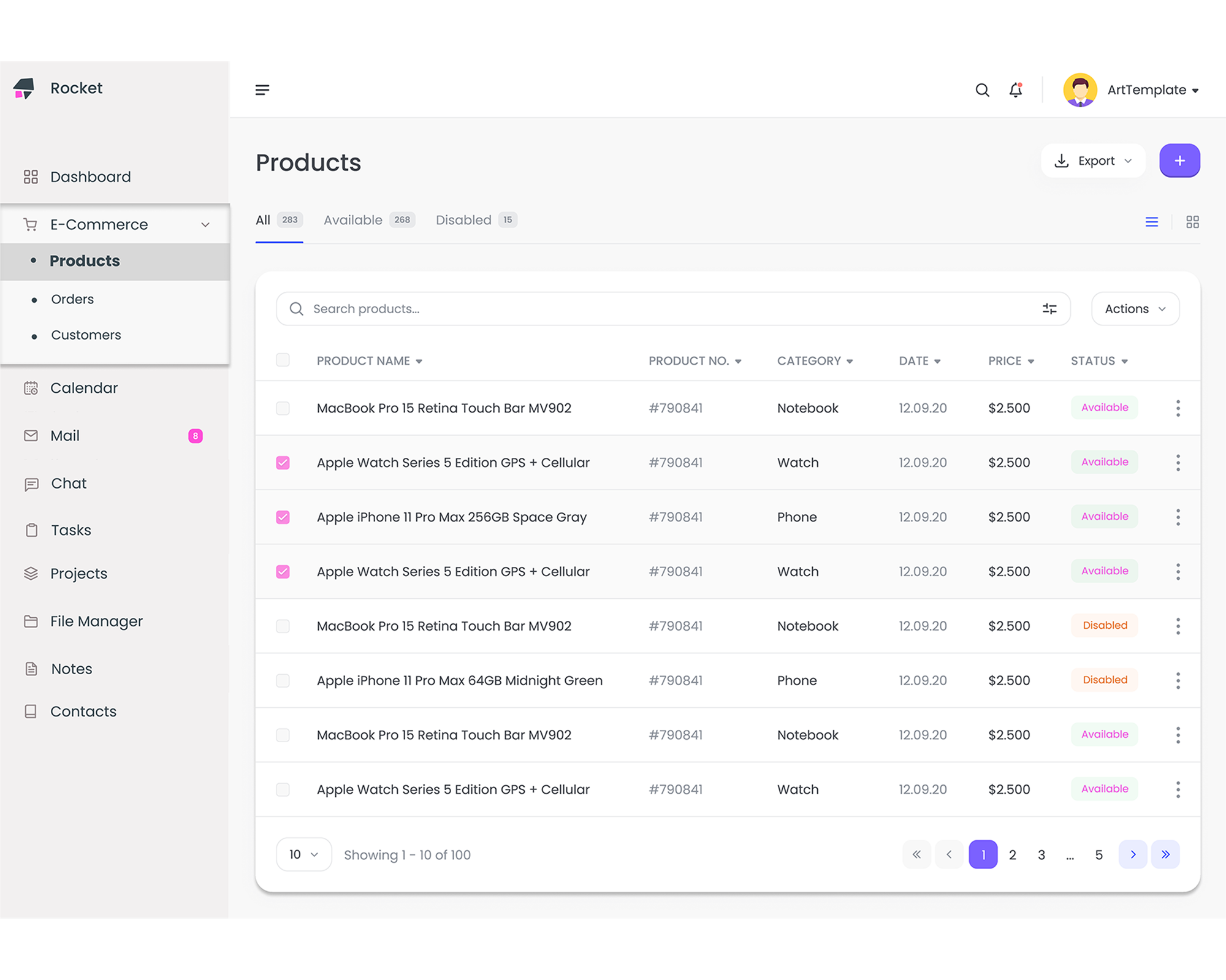 The choice of the background color turned on light
to make the layout airy and easy to scan. E-Commerce Products Orders Customers
Schedule tasks and display them on a calendar
The CRM App includes two items that can be given a specific date and time and displayed on the calendar. In the blueprint, users can create Touchpoints and Tasks. When doing so, the item is added to the built-in calendar page.
Users can create new tasks/ touch points, edit them, and change the status. As with previous items in this article, They can adjust user permissions down to the individual user level to ensure data is protected from unauthorized changes.
It is also possible to add permissions or item ownership to customize individual users' calendars.
Users can reach the calendar page using the calendar icon in the menu.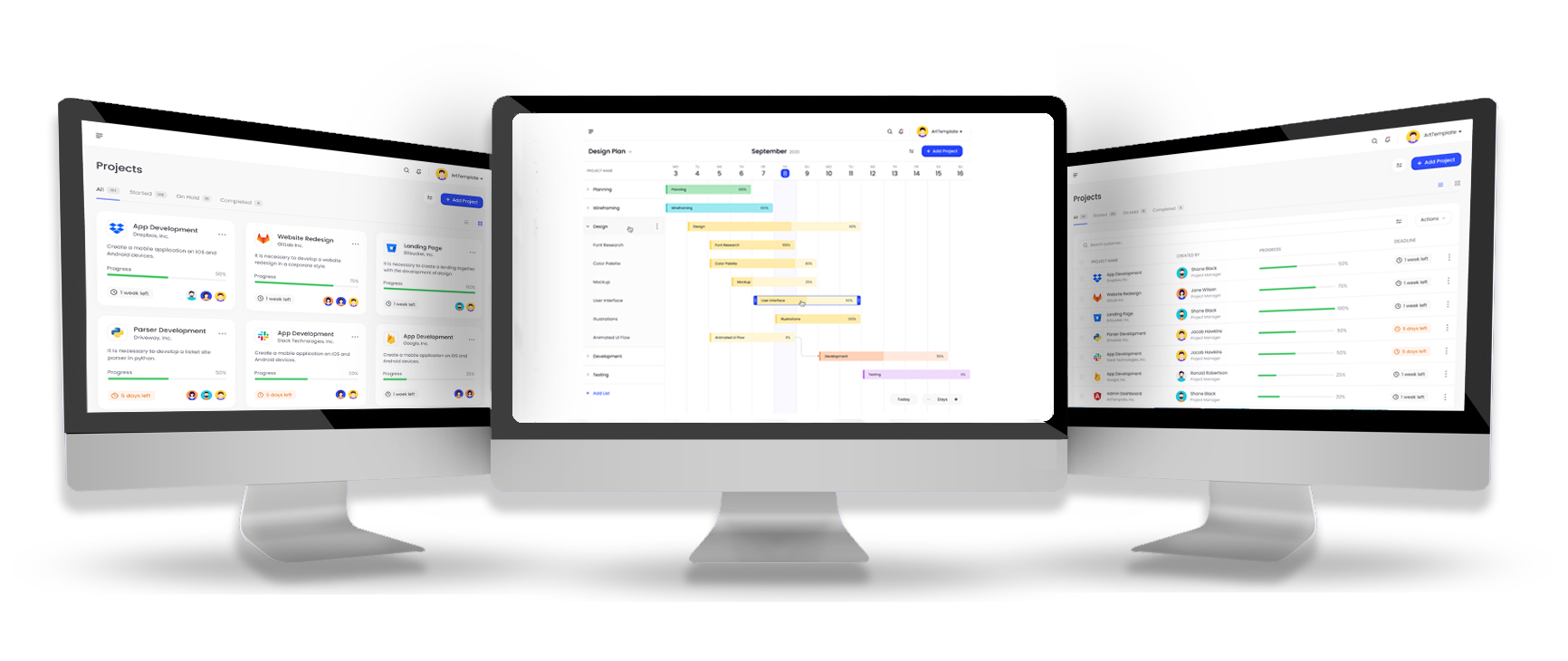 Schedule tasks and display them on a calendar
The design of email templates may not be the highest priority on your list, but email is one of the most effective ways to reach and leads colleagues and customers. 90% of B2B marketers tracked email engagement as their top metric, even higher than their website traffic. Email design systems are a way to improve the consistency of email designs and help teams scale their email production.
Users can Pick an email layout that works for them
There're several templates and layouts to choose from. There are three common ways of showcasing the content in email design:
Inbox Details email design It can be divided from personal, work, friends, family, and social.
There are a variety of colors
There are a variety of colors
There is a choice of fonts
We can change the layout of the mailbox such as:
Inverted pyramid
Single section
Zigzag
Chat with visitors, prospects, and customers in real-time.
In today's digital world, customer expectations are at an all-time high, and human attention spans are dwindling. We make it easy for our users by using a real-time messaging app that empowers users to communicate more effectively and have fun doing it. The thoughtful interface is clean and simple, while packed with features like real-time messaging, video chat, and task management, Also we can add announcements, and instant language reminds them of pending conversations with customers, webinars, and scheduled meetings. Plus, they won't miss any important chat messages,